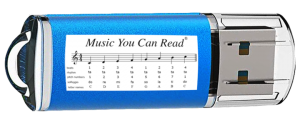 Music Notes, Inc recognizes the tremendous responsibility you take to your career. Music is both your passion and your vocation. With hundreds of students each week, you will want to foster all that music can offer to their lives. Today, thanks to the internet, you can give you students an introduction to music's language bringing greater understanding to music's soul.
In Music You Can Read, Music Notes, Inc. brings together the most universal methods of reading music, presented as FORMATS, that teach music's language, using our most popular traditional songs.
As music teachers we have always known the benefits of private instruction. With "Music You Can Read" you can turn your music class into a music conservatory! Develop a team atmosphere as you coach your students to be the best! Above all, you will have the opportunity to bring each student along at their pace during center time, where cooperative groups or individual stations continue to use language development, introducing and reinforcing music curriculum objectives!
Parents will flock to your OPEN RECITALS to see their child's musical development, or attend student written programs using thematic songs, at your "Music Fest!" All from learning to read music. Music Notes, Inc. believes the single most important aspect of education is language development. As a music teacher, you can develop these skills through music's language, research tells us we should at the earliest age.
Imagine a world where everyone can read and write music. "Music You Can Read" makes reading music affordable to every school in our society. "Music You Can Read" gives you everything you need to teach ALL CHILDREN how to read music! Our TEACHER TUTORIALS offer best preactices for successfully introducing music literacy to your students. Once you see the results, you, and your students, will be ready for the next song, the next tune, the next challenge!
Join us as we seek to make music, truly, our universal language!