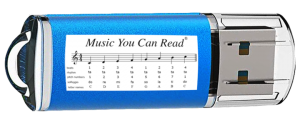 Research supports the positive effects of elementary music education in brain development. Learning to read music notation develops thinking skills, language skills, and, self esteem. Transferring the visual symbols of music into movements, singing or playing an instrument, will generate greater language skills and positive character development! We believe all children should have private lesson objectives as part of their classroom music curriculum.
Turning the classroom into a private lesson, Music You Can Read® is setting new standards in elementary music education. Students are introduced to the many languages of music; beats, rhythm, solfeggio, pitch numbers, note letter names, and then the text, developing reading and language skills essential for tackling more complex languages. Starting at the earliest grade level, the student is immersed in the symbols and words of music's language. Each new song builds on the reading and performance skills retained.
Centers allow for independent study and foster creativity. Programs become a once in a lifetime opportunity where students perform independently for their parents at open recitals, and, gathering for the first and only time, play and sing their favorite songs with their friends. No time is taken from instruction for rehearsals as focus is given to the unique shared experience. From the team atmosphere, to individual growth, Music You Can Read® will improve classroom management and build pride throughout the student body.
Transitions from rote based programs to reading music notation requires a commitment from administrators seeking academic correlations related to other disciplines and music instruction, parents seeking accountability for elementary music in public schools, and, music teachers seeking greater importance given to the music curriculum. The future will demand our best minds. Reading music notation develops thinking skills related to all aspects of learning. The greatest change will be seen as more students succeed in all subjects, thus more enjoyment of the whole school experience! When education is fun, learning is easy!
Jess Buice
Founder/ CEO
Music Notes, Inc.
The earlier you start, the greater the results!